TenkafuMA Hentai Game
Play as Caesar, the most powerful Archdemon in hell. Battle and conquer the demon realm, human realm, or even the heavenly realm! Gradually expand your harem, but don't forget to power up as you enjoy yourself with the babes!
Features
Turn-based strategic battle
5 different attributes and jobs
Hundreds of skill combinations
Animated sex scenes
Story
I'm one badass Archdemon, motha fuckaaa! And I'm sick of these basic female demons!! Conquer the world?! Boring!!!! What?! Did you just say that conquering the world will allow me bang tons of chicks!?
I can pound the crap out of humans, elves, dwarfs, princesses, generals, angels, or even the demons whenever I want?! Then what am I waiting for!? Conquer their land and punish all the females!! TenkafuMA! Taste my banana!!
Hilarious plots! No need to "save the world" and boring crap like that, no weird conspiracies that need to be uncovered! Follow Caesar and break all the rules! Conquer everything in your path!
"The only reason I fight… is to get the babes. Every single one of you belongs to me!"
Information
Full title: TenkafuMA: Diablo's Harem
Developer: S.G.Arts Ltd.
Released by: Erolabs
Publisher: MangaGamer
Language: English
Censored: No (Uncensored)
Voice: English/Japanese and more
Platform: Android and iOS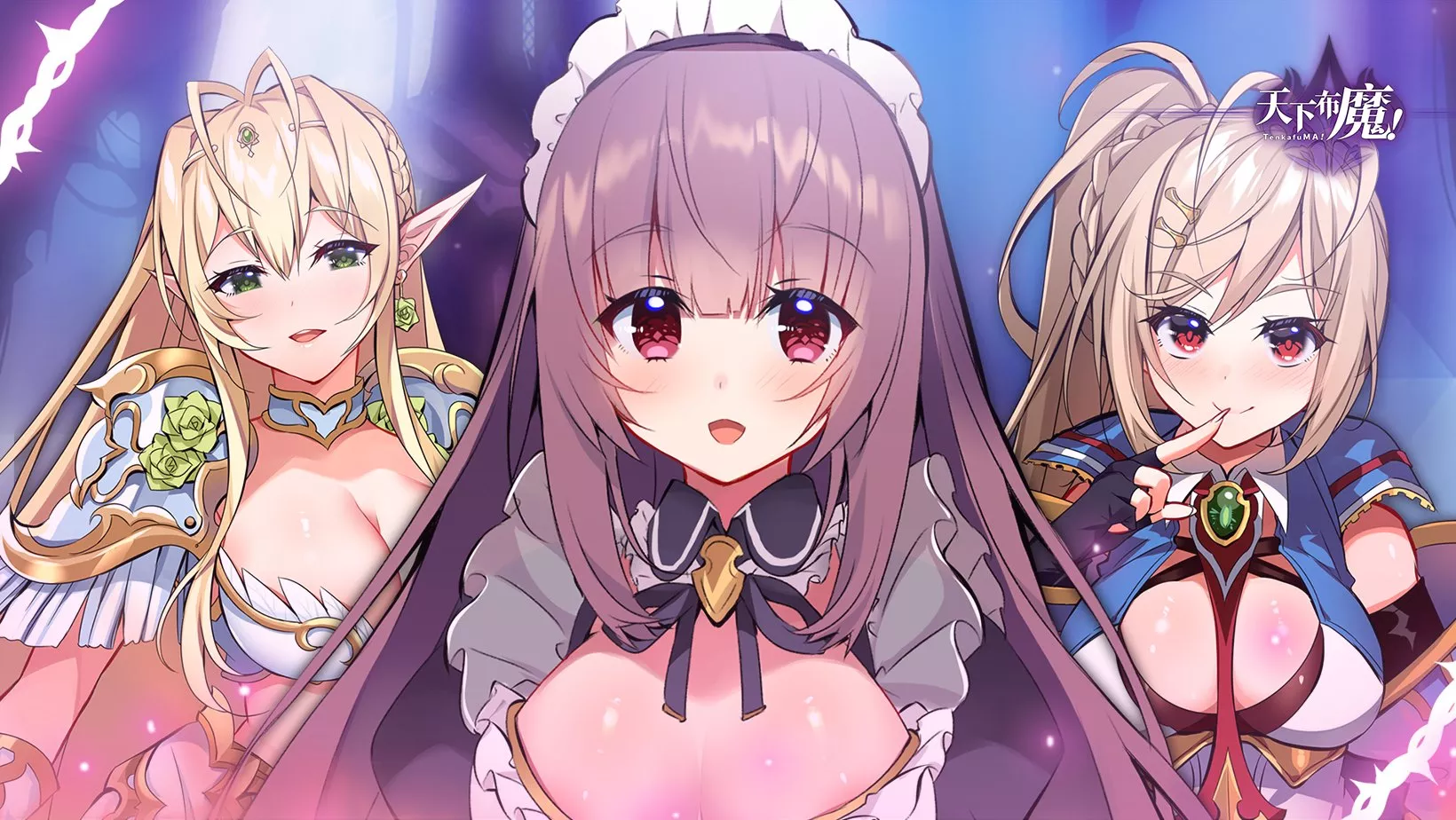 The game is a turn-based card battler where you build a team of 5 waifus and clear stages by fighting enemy teams. It's fully PVE, and every stage is a separate instance. You do need stamina (or energy as the game refers to it) to play stages; once you get past the initial grind from a ton of free stamina replenishes from quickly leveling up, the daily commitment level is minimal.
There are five classes of characters you can have in your team at the moment – Attacker (deals damage), Obstructer (inhibits enemies through debuffs), Protector (tanks damage for your team), Support (provides buffs to your team) and Healer (restores health to your team), though many characters wouldn't fall into one specific class and can have attributes from multiple classes. Every character has a unique Ultimate Ability and different Basic Attacks as well as different Passive Abilities, which dictate how they play in your team. No specific character is required for any of the content in the game (even the endgame tower mode or later chapters in the story), as long as you build a balanced team with a range of classes.
There is no equipment in this game, you gain more power by either leveling up your characters, evolving them (increasing the stars of a character), or increasing their potentials (manual stat increments using materials).
Official links
This game is definitely worth giving a chance even if you're not too interested in NSFW content (this can be disabled in the game's settings, though it's currently still a rather undeveloped feature as it simply blocks out most of the character animations). While it's marketed as a H-game and definitely 18+ by default, I think it's fundamentally a pretty good gacha game as well, with high potential for the future. You can sign up now and start playing for free!